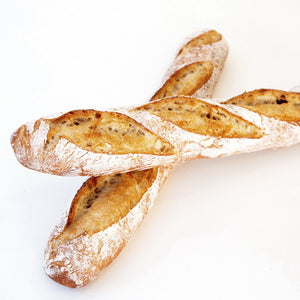 Baguettes (V) (NF)
$4.00
 Minimum order of 2 baguettes
NOTE: we advice you to buy several in one go and just freeze them.  To reheat, just follow the instruction below (make sure to freeze them fresh on the day they're baked).
We treat our baguette dough like a person, giving it much love, care and attention and allow it to develop a deep flavor through a natural long overnight fermentation.

Allergens: Vegetarian and nut free recipe (please note our production facility has dairy products and tree nuts). Contains gluten products.
Storage: Eat fresh on the day or freeze for future consumption.  To reheat, take out of the freezer and straight into a pre-heated oven at 170°C for 8-10 minutes or until the desired crust is formed.
Delivery: Auckland only.
French baguettes | French stick | French bakery