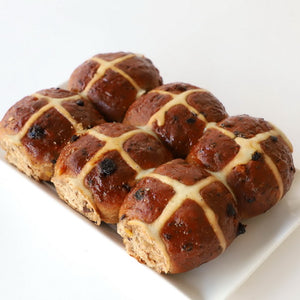 Hot Cross Buns
$29.00
Traditional old fashioned hot cross buns, made with a rye flour mix. A packet of 6.

Allergens: Nut free recipe (please note our production facility has nuts). Contains gluten and dairy products.
Coloring: We do not add any coloring in our hot cross buns.
Storage: Store in the pantry. Consume within 5 days. (These can also freeze nicely!)
Delivery: Pick-up at our store, or Auckland delivery.
Easter treats | Hot cross buns