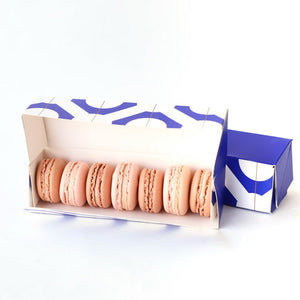 Valentine Macarons (GF)
$20.00
A mixed box of limited edition Peach and Strawberry macarons (7 pieces)
Please note that our Valentine Macaron box is dedicated for Valentine's day. They are only available for pick-up or delivery from Wednesday 10th February to Saturday 13rd February.
Allergens: Gluten free recipe (this product was produced in a facility that has wheat). Contains dairy products and nut trees.
Storage: Our macarons are best consumed fresh but will keep refrigerated for up to 3-4 days.  Prior to serving, allow the macaron(s) to stand at room temperature for 15 minutes.
Delivery: Pick-up at our store, or Auckland delivery using a 30 to 45 minutes delivery service to maintain the chilled temperature of our macarons. Because of this, delivery fees are higher than ambient products.
Valentine macaron box | Gift box | Gluten free | Auckland delivery
Share our Valentine macaron box with your friends on: