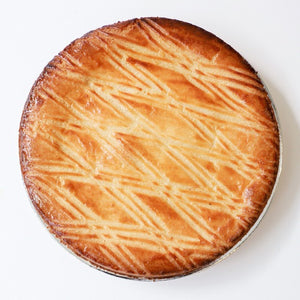 Gateau Basque
$50.00
Gateau Basque is a traditional cake from the Basque Region in South West of France. It is made of short pastry dough (pâte sablée) filled with rum infused vanilla pastry cream..
You may select as well a personalised chocolate message plaque (e.g. birthday message), or birthday sparkling candles.
Allergens: Contains gluten, dairy products and tree nuts.
Coloring: We do not add any coloring in our cakes.
Storage: Store in the fridge. Serves warm or cold. Consume within 3 days.
Delivery: Pick-up at our store, or Auckland delivery using a 30 to 45 minutes delivery service to maintain the chilled temperature of our cakes. Because of this, delivery fees are higher than ambient products.
Gateau Basque | Traditional French cake | Auckland delivery
Share our Gateau Basque with your friends on: