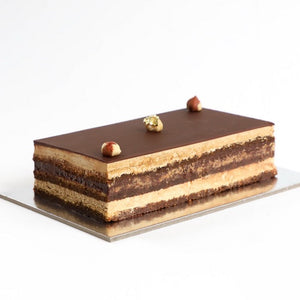 Opera cake
$70.00
NOTE: Please note that this cake is a limited edition for Saturday 18th November only. 
Almond joconde sponge;
Coffee creme au beurre;
Dark chocolate ganache;
Armanac coffee syrup.
Serve 5-8.
Allergens: Contains gluten, dairy products and tree nuts.
Coloring: We do not add any coloring in our cakes.
Storage: Store in the fridge. Consume within 3 days.
Delivery: Pick-up at our store.
Opera cake | Classic French cake | Divine cake Auckland
Share our Opera cake with your friends on: