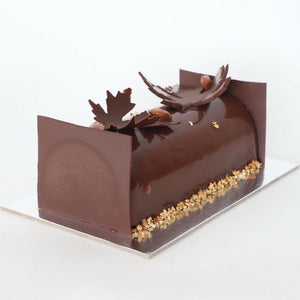 Honduras Christmas Log
$80.00
Intense dark chocolate mousse;
Vanilla brulee;
Chocolate wafer praline crisp;
Chocolate sponge.
6-7 servings.

Please note, our Honduras Christmas log is only available from Friday 1st December until the 24th December.
Allergens: Contains gluten, dairy products and tree nuts.
Storage: Store in the fridge. Consume within 3 days.
Delivery: Pick-up at our store, or Auckland delivery using a 30 to 45 minutes delivery service to maintain the chilled temperature of our cakes. Because of this, delivery fees are higher than ambient products.
Honduras Christmas Buche | Christmas log | French speciality
Share our Honduras Christmas Buche with your friends on: